Our House System
The development of a strong culture is a vital part of our schools. We believe that pupils need to be provided with opportunities to develop as young people, to gain a sense of community, and to experience and share success with others. One way in which we provide such opportunities is through our House System.
Here at Norwich Primary Academy, we are extremely proud of the House System we have created and the attached values. It embodies all that we stand for and is the vehicle in which our culture is lived through each day. It encourages pupil development through access to a wide range of experiences and motivates students to work together to share ideas, allowing them to learn from each other.
Each of our Houses has a House Leader and every pupil and staff member is expected to be part of a House.
Each school within the Inspiration Trust has a House System and as part of the wider trust, we are delighted to be able to offer our students the opportunity to participate in numerous exciting inter-trust events and competitions, all of which promote and inspire teamwork, while creating a unique sense of belonging to something bigger than one's self.
Our House names reflect the importance and pride in our community in Norwich and each house is named after an important place in Norwich City. Bishops Bridge, Elm Hill, Dragon Hall, and Pottergate. Our pupils learn in their assemblies about the historical connections in their community and build a sense of place, pride and develop culture capital about our local area.
Each House owns a core value that is promoted in each school. The Smart School Council ran pupil voice sessions to come up with these core values, and the pupils' ownership of this is at the heart of the House system.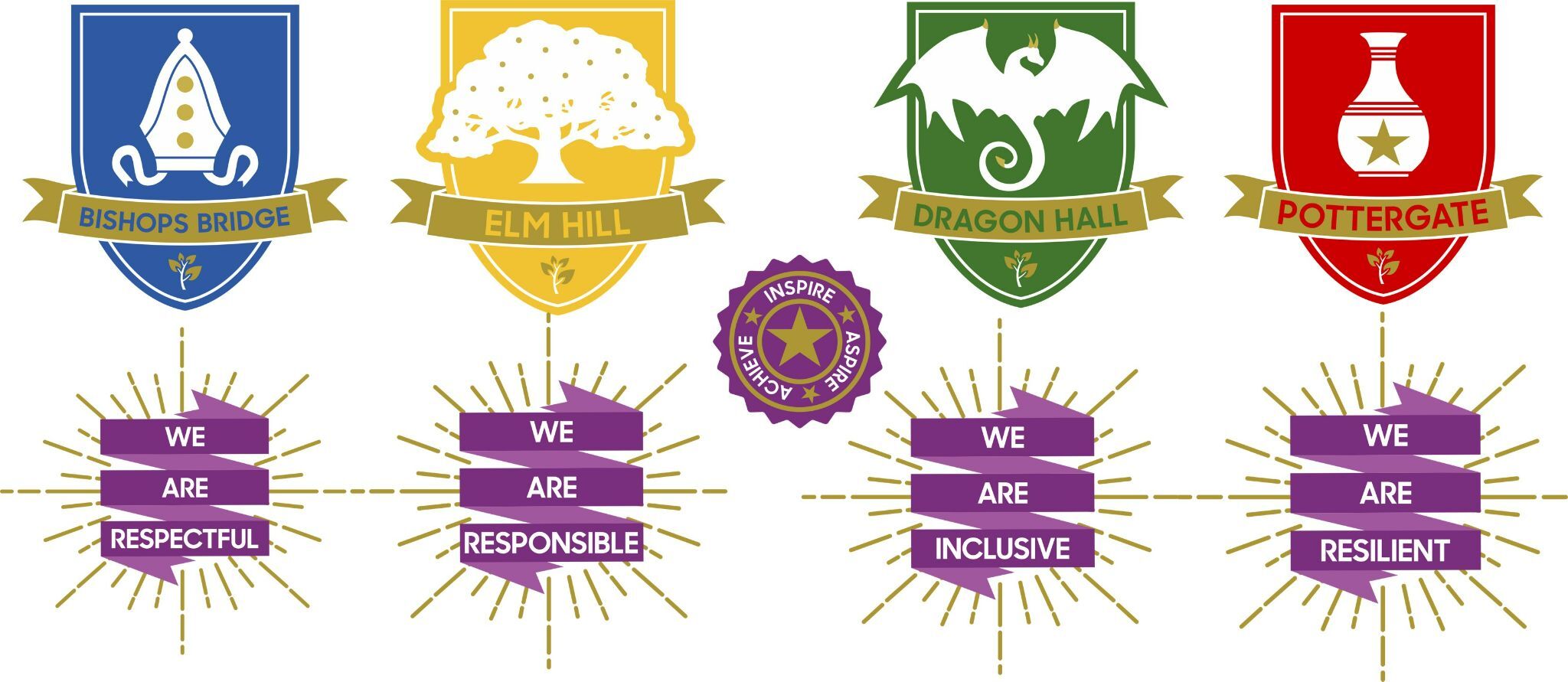 Our House and Reward Systems are standardised and codified so that all staff and pupils know what can be rewarded and what level of reward should be issued. This ensures that the reward system is fair and consistent for all.
Pupils earn house points when they are caught making the right choices, showing efforts and achievement and being a good citizen of the school. A few examples of these are:
Sporting Activities
Academic challenges
Performing arts/creative opportunities
Debating or public speaking events
Reading challenges
The House points are celebrated weekly in Rewards Assemblies and House Cups for House Points, Sporting Achievements and Star Achiever are awarded annually in our end-of-year celebrations.
Our House system is highly visible and evident to all our school community. Displays across the school celebrate our ethos and achievements. Pupils wear House coloured lanyards that promote the core values and pride of each of the Houses. Our website celebrates our House system and the achievements of our Inter-House competitions and rewards.
Our weekly reward assemblies celebrate individual and House achievements. Assemblies throughout the year also educate our pupils about the House ethos, historical value and how they can build on their own character development through our collective worship curriculum.