Norwich Primary Academy Opens Art Exhibition in Partnership with Norfolk Open Studios
Back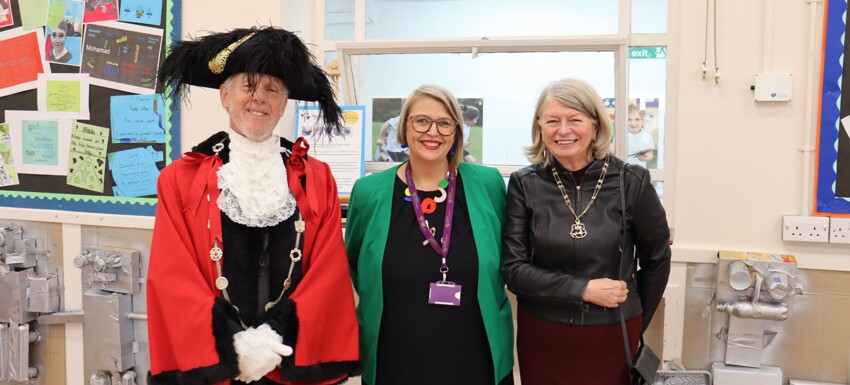 October 4th 2022
On the 4th of October, Norwich Primary Academy opened its doors to present a new Art Exhibition in partnership with Norfolk Open Studios. The Lord Mayor of Norwich, Dr Kevin Maguire was in attendance and helped to open the exhibition to the public.
Pupils' art was on display, created as part of Arts Week 2022 and was available to view for the first time that afternoon. Heather Denny, Vice Principal at Norwich Primary Academy was pleased to welcome the public into the school and to demonstrate the wonderful art that their students have created.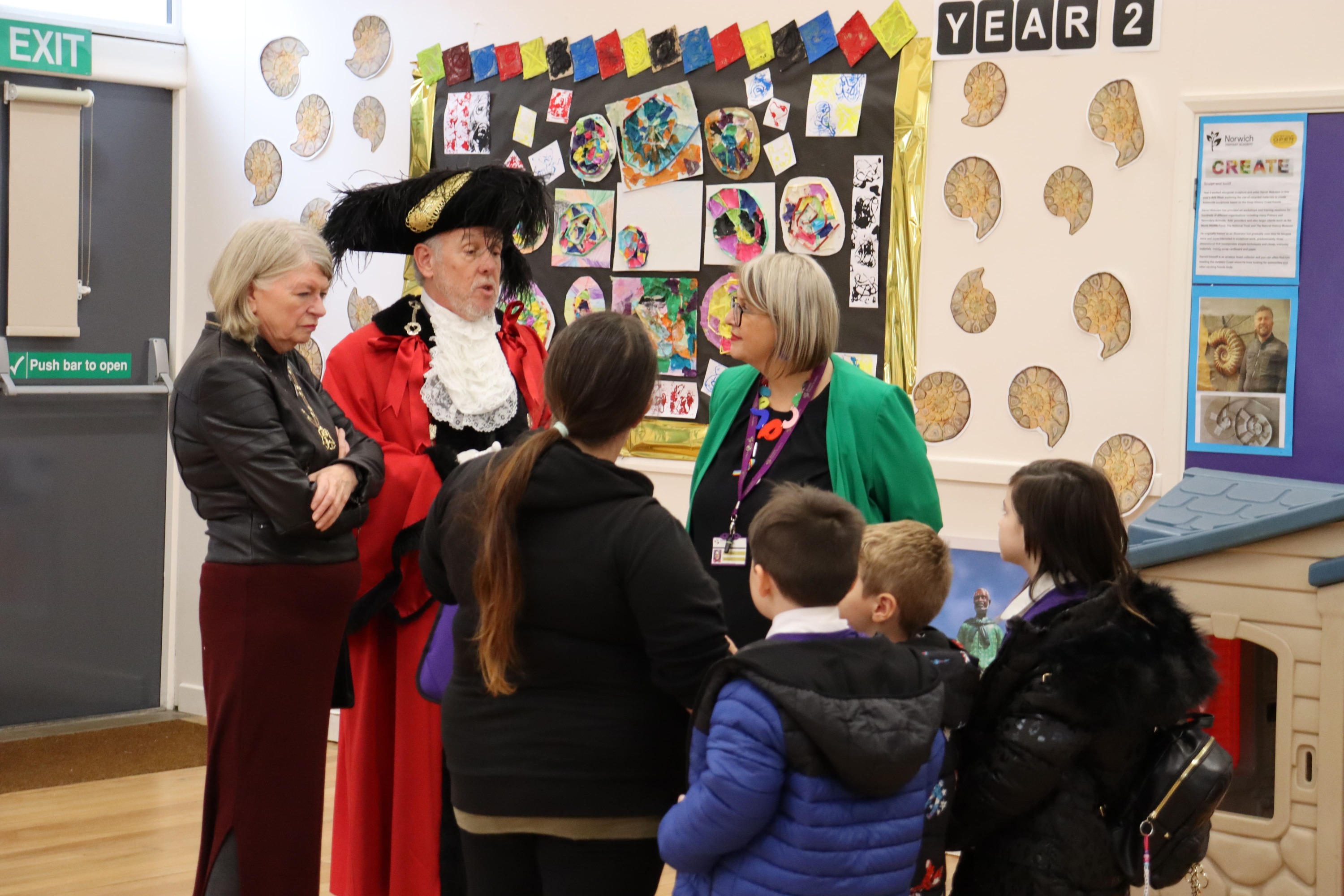 Lord Mayor of Norwich, Dr Kevin Maguire said
"It is really amazing seeing children have this opportunity to express themselves and be given the opportunity to display their work publicly."
Artwork from pupils had different themes for each class, with different goals and aims for the children to develop towards, some were focused on mark making and others linked to music and movement. There was a range of different styles and mediums used in the exhibition, with paintings, sculptures and photography on display. Many of the pieces linked to different parts of the curriculum, including sculptures of "The Iron Man", drawing inspiration from the book of the same name by Ted Hughes, and milk bottle mammoths that were inspired by the Go Go Discover trail recently organised throughout the county.
Vice Principal at Norwich Primary Academy, Heather Denny said:
"We believe that all our pupils should have a voice to express themselves and their opinions and the Arts is a fantastic way for them to do this. We know at Norwich Primary Academy that the arts enriches our lives, making us happier and healthier. We celebrate every child's creativity each year by holding an Open Studios Art Exhibition. We exhibit work from the creative curriculum and celebrate the work produced in Arts Week, an annual event that we hold each summer term. We proudly opened the exhibition with the help of our Lord Mayor of Norwich, Dr Kevin Maguire. The Lord Mayor is an advocate for the Arts and a councillor in the Wensum Ward where we are based."
Norfolk Open Studios has taken place since 1994 and has grown from involving a handful of artist studios to now including hundreds of artists across Norfolk as well as Norfolk schools. The main reason it appeals to so many is that it offers an informal and friendly way for everyone to enjoy and find out more about artists and makers, and the wide range of creative mediums being practised. Studios are free to visit and easy to find, with participating artists across the county, in our busy cities and towns and along quiet, country lanes.
With venues and studios open to the public, Norfolk Open Studios is run by Norfolk & Norwich Festival and supported by Arts Council England, Norwich County Council and Head East. From the 24th of September until the 9th of October studios have been open across the county, with art to please lots of different tastes. Other schools in the Inspiration Trust have also been open in this period with exhibitions being shown at Cromer Academy, Great Yarmouth Charter Academy, Hewett Academy, Stradbroke Primary Academy and Wayland Academy.
Our year 6 pupils exhibited the photography work that they produced in our annual Arts Week in a special Open Studios School Exhibition in Norwich City at the Undercroft Art gallery. Their work was exhibited for 3 weeks alongside many other schools who had also committed their pledge to show Norfolk their creative skills in their own Open Studios Exhibitions.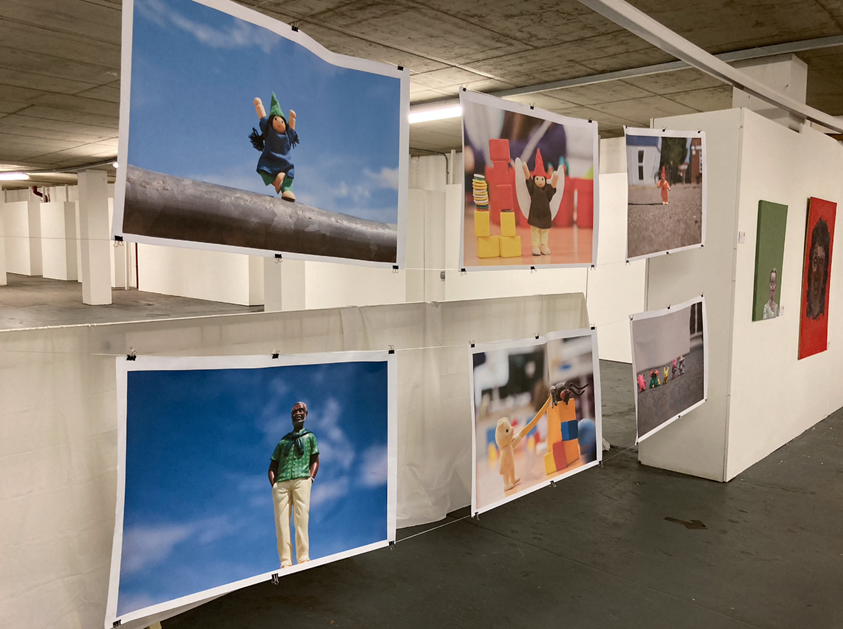 Each year Norfolk & Norwich Festival delivers Take Part: Schools – a creative learning programme focused on schools around Norwich and Norfolk. They inspire and nurture creativity and provide opportunities to grow, learn, make and have lifelong creative experiences. This programme enabled artists to work in long-term residencies at schools across the West Earlham area of Norwich, with exciting diverse projects such as poetry and storytelling.
We are very lucky to be working on a new project this term with storyteller Marion Leeper called "Playing with Stories" to help our pupils develop their literacy skills. Marion and our Teaching Assistants will be developing language games, and training our staff to be able to adapt them to use across the primary age range. They will be exploring what kind of literacy skills you need to work with children to help them plan active, fun games and exercises to enable the children to develop those important literacy skills and their confidence through fun activities and teaching strategies.